Why ShortPixel is the Best Image Optimizer for WordPress
Some of the links in this post are affiliate links. This means if you click on the link and purchase the item, I will receive an affiliate commission at no extra cost to you. All opinions remain my own.
Website image optimization is crucial for improving website speed and user experience. Images often account for a significant portion of a website's file size, leading to slow loading times and frustrated users. ShortPixel is a leading image optimization plugin with over 300,000 active installations designed to be an "install-and-forget-about-it" solution that can help you optimize your website images in just a few easy steps.

Features of ShortPixel
ShortPixel offers a suite of features designed to help you optimize your images in the most efficient way possible. Here are some of the critical elements of ShortPixel:
Compression: ShortPixel uses lossless, Glossy and lossy compression algorithms to reduce the size of your images. You can choose the level of compression that works best for your website or let ShortPixel decide for you.
Batch Optimization: ShortPixel allows you to optimize multiple images simultaneously, saving you time and effort. You can choose to optimize all of your photos or select specific images to optimize.
Automated Optimization: ShortPixel can be integrated with your content management system (CMS) to optimize your images as you upload them automatically. You don't have to manually optimize images when you upload new content to your website.
WebP Support: ShortPixel supports the WebP image format, designed to deliver high-quality images at a smaller file size than traditional formats like JPEG and PNG.
API Integration: ShortPixel has an API that allows you to integrate it with other tools and platforms. It's easy to automate your image optimization process and get the most out of ShortPixel.
Benefits of Using ShortPixel
There are several benefits to using ShortPixel to optimize your images, including:
Improved Website Speed: ShortPixel can help your website load faster by reducing the size of your images. Improve the user experience, lower bounce rates, and boost your search engine rankings.
Increased Storage Space: ShortPixel can help you save storage space on your server by reducing the size of your images. Reduce your hosting costs and keep your website running smoothly.
Better User Experience: A faster-loading website and high-quality images can improve the overall user experience. Engage and retain your visitors, leading to increased conversions and sales.
Increased SEO Rankings: Faster-loading websites can help you improve your search engine rankings. Get more traffic and visibility for your website.
Setting Up ShortPixel
To start with ShortPixel, sign up for an account on their website. Then, install the ShortPixel plugin on your WordPress website and connect it to your ShortPixel account with your unique generated API key.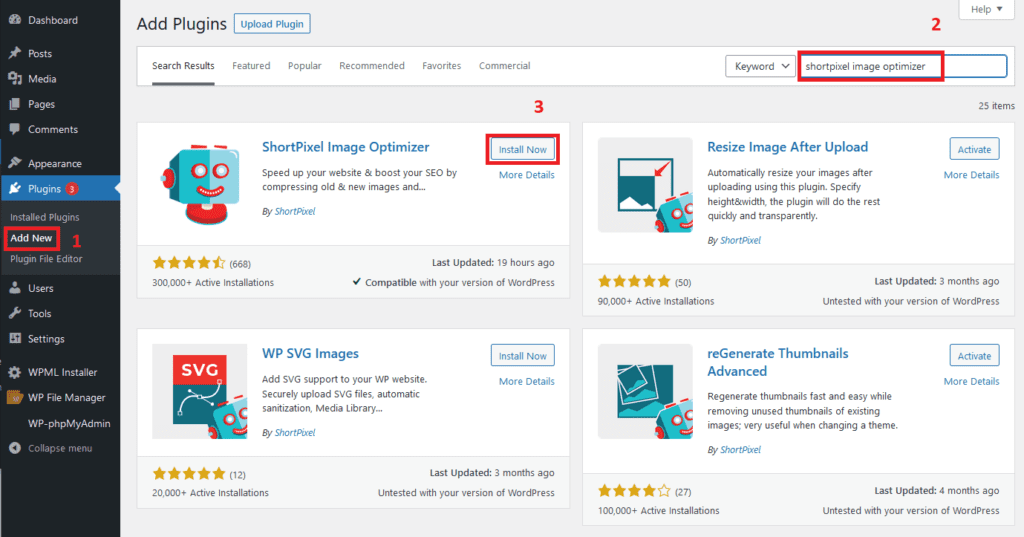 Go to your WordPress admin area and click on Plugins > Add New.
Find the plugin by typing "ShortPixel image optimizer" in the search field.
Click on Install Now on the ShortPixel Image Optimizer box. Once installed, the button will change to Activate.
Optimizing Images with ShortPixel
With ShortPixel installed on your website, you can easily optimize existing and new images. The plugin allows you to bulk-process all existing photos with just a few clicks. You can also set it up to automatically optimize new pictures as you upload them. ShortPixel offers various settings to customize the optimization process to your specific needs.
What do these Compressions mean?
Lossy is the best option for most users. The images processed with Lossy algorithms are the most optimized images you can get. So, if the speed of your site is paramount and you want the best balance between optimization and picture quality, we recommend you continue to use Lossy optimization.
Glossy is the best choice if you still care about Google Insights but believe that a slight loss of page speed is an acceptable compromise for top-notch image quality.
Lossless optimized images are pixel-by-pixel identical to the originals, but they offer a minor size reduction compared to either Lossy or Glossy processed files. If you want your pictures to remain untouched, then select this option.
Real World Data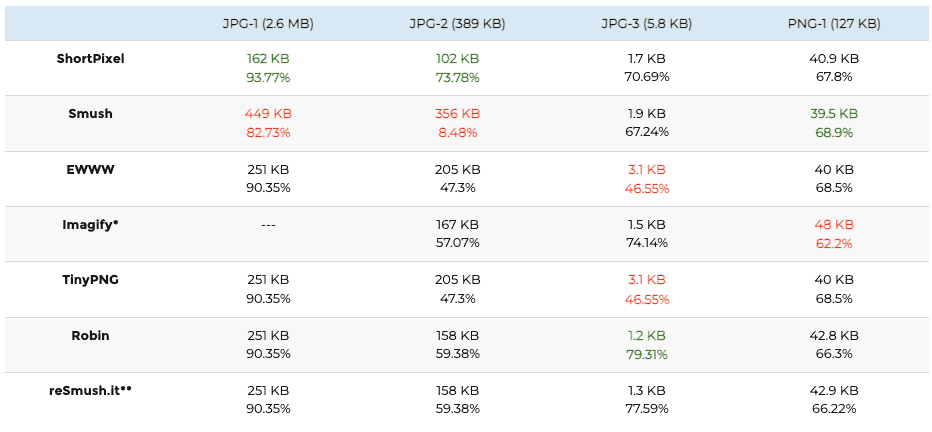 Source: 2022 Image Optimization Comparison – WordPress
Thumbnail compression
For optimal performance, enable this setting, as thumbnails are usually the most viewed images by the website's visitors and can drive the most traffic
Backups
ShortPixel, by default, will back up the original unoptimized images. You can restore single photos or bulk restore all if needed.
Remove EXIF
EXIF stands for "Exchangeable Image File Format." It is a type of data stored inside digital photos. For example, the time of a picture, the camera and the settings used to take the image. Enabling remove EXIF is recommended, as it will reduce the file size.
Advanced Settings
Optimize media on upload – ShortPixel Image Optimizer will automatically optimize the newly added images.
Optimize Retina Images: This option will enable optimizing any @2x retina-specific images.
Optimize Other Thumbs – Certain plugins can create additional thumbnail files not included in your media library. By enabling this option, ShortPixel will compress these thumbnails as well.
CMYK To RGB Conversion – By converting your images from CMYK to RGB, you are optimizing your images for viewing on your device's screen and compressing your image file sizes further.
Measuring the Results
After optimizing your images with ShortPixel, you can measure the results with GTmetrix and Google PageSpeed by testing your website's load time and comparing the file size of optimized and unoptimized images.
The scores serve as an indicator of how a website is performing overall. These scores are necessary for the average user to comprehend the outcomes. Please remember that a website's performance can be more accurately determined using your computer or device browser.
Page speed is typically measured in seconds or milliseconds, not by a numerical score. Although a high score may appear desirable, the aim is to identify any issues causing your site to load slowly and to take the necessary steps to address them.
What about pricing?
ShortPixel's monthly pricing is super competitive because it offers a wide range of options that can fit the needs of any budget. It provides plans for individual users and businesses, ranging from free to enterprise-level, that are scalable so that users can upgrade or downgrade their plans as necessary. You can also buy a credit package or sign up for their unlimited service.
Conclusion
ShortPixel is a must-have WordPress plugin, offering powerful features that make image optimization a breeze. Overall, Shortpixel is an invaluable asset for any WordPress website, helping to improve website performance and reduce page loading times.