Is AIPRM Premium with ChatGPT Worth the Cost?
We initially posted on AIPRM SEO, a chrome extension that works with ChatGPT, in January 2023. We were very excited with this extension because it was a clean and easy-to-use interface that helped remove the frustration of struggling to find the perfect prompts and extended ChatGPT.
The entire process is very straightforward; you select one of the curated prompts, enter your topic into the search box, and press enter. One of the most popular features is the Outrank Article prompt; it enables you to quickly and easily paste the URL of your competitor and have ChatGPT generate a high-quality article.
So What's Changed?
We initially mentioned that AIPRM would come out with a subscription model. Let's face it writing out prompts can be time-consuming whenever you need a prompt written.
With the launch of AIPRM Premium, we get their list of subscription prices, which has drawn mixed reviews.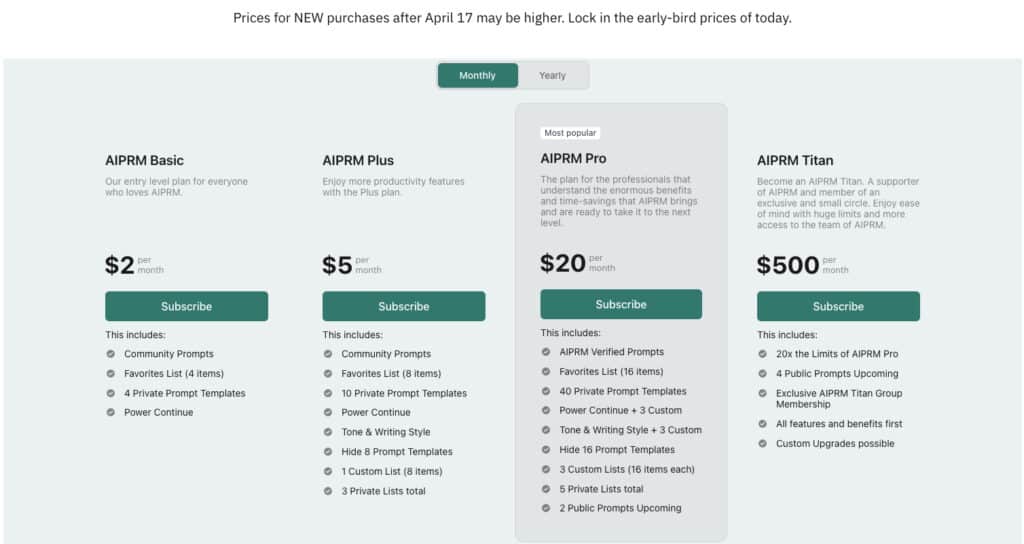 Let's break down the prices: AIPRM Basic ($2 per month), AIPRM plus ($5 per month), AIPRM Pro ($20 per month) and AIPRM titan ($500 per month).
What do you get for each of the values?
That's the part that gets confusing and elusive. When a user already has something they are using for FREE (such as community prompts), when you add on a paid subscription, it must be clear that they will not lose what they already have.
Firstly, in the company's blog post, we see a written section that should have been integrated into the pricing and plans page to let the users know they can remain on the free service.

The second oddity is telling the user that a pending price increase will be imminent.

We don't see any problems with the current competitive monthly price structure without an increase; we believe the titan option should have been a link to contact the company if they needed a larger subscription package.
Lastly, the yearly subscription savings should be a better offering; you only save $20 on the pro plan yearly. It would be better to offer a reduced rate on the yearly subscriptions.
Regarding value, AIPRM is currently relevant if time savings is significant to you. The other incentive will be the AIPRM Verified Prompts, as the community can be a hit-and-miss regarding efficiency.
Will OpenAI and ChatGPT adopt prompt selectors and suggestions into their software? Google and Microsoft are implementing AI into their Apps, affecting the revenues of smaller start-up companies.
This year will be exciting as the AI market is heating up!
Are users signing up for premium?
Currently, the company states that merely 52 hours after launching, they have over one thousand paying users.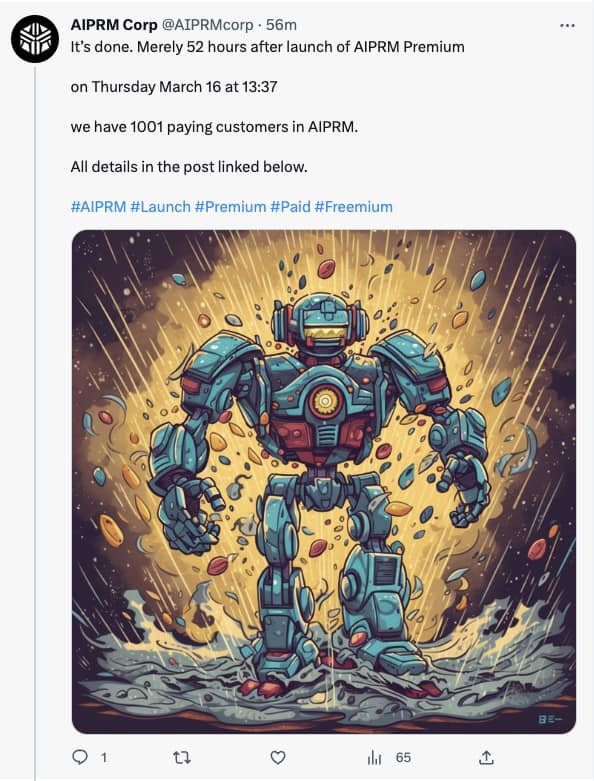 Conclusion
AIPRM Premium is currently a great addition to ChatGPT, as is the AIPRM Free extension. Without a doubt, the company has had a slightly confusing launch of its premium services. We still enjoy AIPRM, and if you like what they do and use their services, then support them.
Stay updated with AIPRM Corp and its founder Christoph C. Cemper on Twitter.